Breadcrumbs
You are here:  

insurance, rates rising, what is your experience and what are you paying?
insurance, rates rising, what is your experience and what are you paying?
19 Sep 2020 17:26
#1
by

Ken Thompson
68 years old. Private Pilot flying as Sport Pilot.
About 225 total hours. A little over 100 in Ercoupe in three years. $34k hull. $1M liability. $650 per year. Went up about five bucks this year.
Please Log in or Create an account to join the conversation.
Michael Hainen

Topic Author
15 Sep 2020 04:41
-
16 Sep 2020 05:28
#2
by

Michael Hainen
Purchased my first aircraft insurance policy back in July for my first airplane, 1946 415c Ercoupe. My only other aviation insurance
experience was back when I was a student and renter in the 1980's & 1990's using AVEMCO renters insurance. So lately I have
been following several threads on aviation sites like EAA, AOPA and some from FLYING magazine concerning rising insurance rates.
Insurance is a great big pooling of money and investors from around the world and as such world events affect rates. Some of the
big events disturbing rates lately are Australian fires, grounding of Boeing 737 Max jets, California fires last year and now, and events like the COLLINS FOUNDATION B-17 crash last fall. In following these things several items are being used by brokers and underwriters to explain away these rising rates to aircraft owners. Some items also being thrown into the mix include, aircraft age, complexity, usage ie. private, commercial, training, hangered or ramped and more recently pilot training, ratings, medical type and age. Some of the discussions are showing pilots are starting to feel a need for a class action lawsuit for various factors, most noticeable is age discrimination. Reading about heavy iron owners having rates doubling in some cases without an incident. Example a
Beechcraft twin owner having $12500 rate increasing to $25000, yikes. Thank God ERCO never built a twin.
As for myself, I am in my 60's, low time, using LSA rules, drivers license medical and renting a hangar. I will be doing more insurance shopping over the winter. I have learned that you have to go slow and be deliberate when seeking quotes because apparently there is a 30-day waiting period between quotes when a broker is shopping around for insurance from various underwriters. A fuzzy topic, will need to learn more about that.
Here is my challenge for members of EOC on here, classify yourself and your airplane as private, CFI, commercial user, type of Ercoupe, experience level, experience level in type, age group, ie. 40's, 50's, 60's, 70's etc. Are you going with just liability,
liability and hull coverage? And approximately the cost of your insurance in 2019 or 2020. Did it increase drastically from one year to the next? Where did you find your coverage? I see AVEMCO runs and ad in Coupe Capers claiming to be EOC friendly, I haven't gotten through to them yet but will be trying this winter. As for my self, my 2 quotes back in July, 150 hours flight experience, 15hrs recent training and age 65 and before I obtained some Ercoupe dual instruction were $899 and $1063. The first insurer only required 5 hours of dual in a coupe and limited no passenger until 10 hrs in type had been achieved. Coverage was for $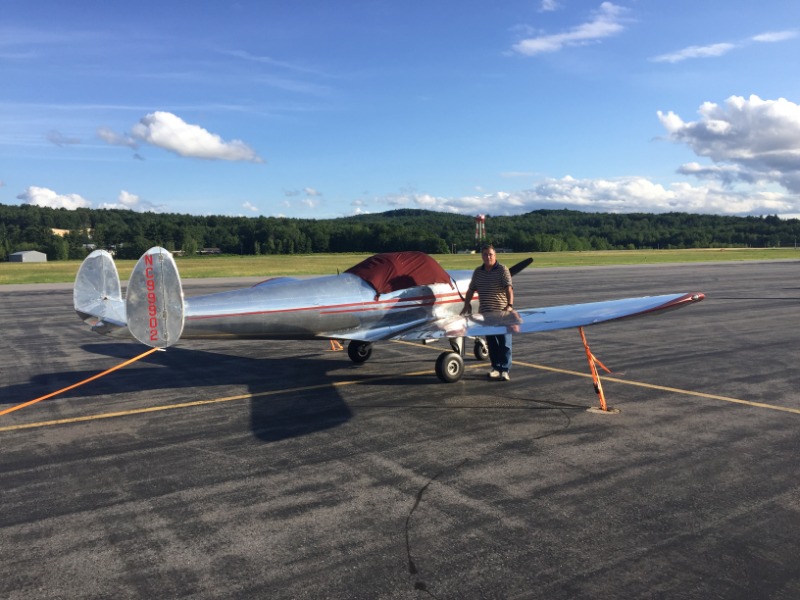 15K hull and $1M liability.
Hope to compare your responses to see if I am paying too much, and what to expect as my plane and I age. One other item I gleaned from the various aviation threads is loyalty counts, if you have coverage, don't let it lapse, and don't be hopping around as many underwriters are walking away from GA insurance, also there are good pilot brokers and others are just non-pilot insurance salesmen. Seems to be a lot of complex aircraft claims lately and the cost of these new aircraft is stupid expensive, ie. SLSA types, Cirrus, SR22's, and lots of gear up twins accidents.
Last edit: 16 Sep 2020 05:28 by
Michael Hainen
. Reason: spelling correction
The following user(s) said Thank You:
Frederick Melick
Please Log in or Create an account to join the conversation.
Time to create page: 0.189 seconds