New prop
01 Mar 2020 06:44
-
10 Mar 2020 15:13
#2614
by

Gordie Meade
Replied by
Gordie Meade
on topic
New prop
Static on the 7153 was about 2300. On the new 7150 it only turns about 2220 and climbs at 2350, but climbs much better, especially loaded.
Last edit: 10 Mar 2020 15:13 by
Gordie Meade
.
Please Log in or Create an account to join the conversation.
27 Feb 2020 08:01
#2611
by

Gale York
Do you recall your static on the 7150? I have a friend that wants to know.....

Gale
Please Log in or Create an account to join the conversation.
22 Feb 2020 13:23
-
22 Feb 2020 14:20
#2596
by

Gordie Meade
Replied by
Gordie Meade
on topic
New prop
Pitot static leak was fitting in the back of altimeter.
I flew the new prop today for the first time after installing the new prop and finishing annual. I was surprised at the difference. The old prop was a 1A105-SCM7153. The new prop is a 1B90-CM7150. It does not run static as much as the old prop BUT it climbs about 150-200 fpm better and the cruise speed went from 98 mph at 2350 rpm and 6.3 gph fuel flow to 106mph at 2350 and 6.3. Prop needs to be dynamically balanced which will happen in about a week but performance is pretty much as McCauley described.
Last edit: 22 Feb 2020 14:20 by
Gordie Meade
.
Please Log in or Create an account to join the conversation.
18 Feb 2020 10:37
#2592
by

John Jones
Looks nice, waiting to hear about the pitot/static leak diagnosis.
Please Log in or Create an account to join the conversation.
17 Feb 2020 20:40
-
17 Feb 2020 20:42
#2591
by

Gordie Meade
When going through annual this year, my mechanic found pitting on my prop and we decided to send the prop out to the prop shop to be dressed and re-painted. Good plan, huh. Well, the prop failed dimensionally for being too thin. That left two choices, find a usable overhaulable prop like the one I had, or get a new one. I was OK with getting a previously flown prop and started searching for one. Barnstormers, no. Ebay, no. I started calling around to propeller shops but no luck. The Mooney has a Continental C90-16F which came with a McCauley SCM7153 cruise prop. There just were not any of the usable props around that I, or my mechanics could find. I found one 7454 that could be trimmed and re-pitched but there were no logs or anything with it and it was $3500. I started looking at new props only to discover that there were NO SCM7153 new props available. Univair lists them but with a 90 day lead time. One really helpful prop shop said they could get a CM7150 and get it re-pitched as needed. It was new and would go directly from McCauley to be re-pitched then to me, time about three weeks.
I decided to bite the bullet and go new since it would be zero time with logs that I would know exactly what it had gone through. I called and ordered it. Gayle, the lady on the phone took all the info on Thursday and I put a check in the mail Friday morning. She received the check Monday and called me. She was going to order the prop but spoke to her shop foreman. He told her that McCauley had done a re-design with the CM 7150 prop with an airfoil change and the tip of the prop was square instead of round which gave almost identical performance as the older SCM7153 but with better climb performance. She called McCauley and spoke to the engineering staff and confirmed with them that her foreman was correct. She gave me the number so I called McCauley and re-confirmed the data. Basically they said: fly the prop as is and if I need more pitch, get it done later. There are two plusses here. One, it was $300 cheaper, and Two, I would get it in a week. I called her back and she ordered it on Monday. It and a $300 refund check arrived Friday. My guys installed the prop today and it looks awesome. They are finishing the annual, had a pitot static leak that they are chasing down, so will get the airplane back probably Wednesday or Thursday, which is okay as the weather sux anyway, ceiling about 500 feet and rain.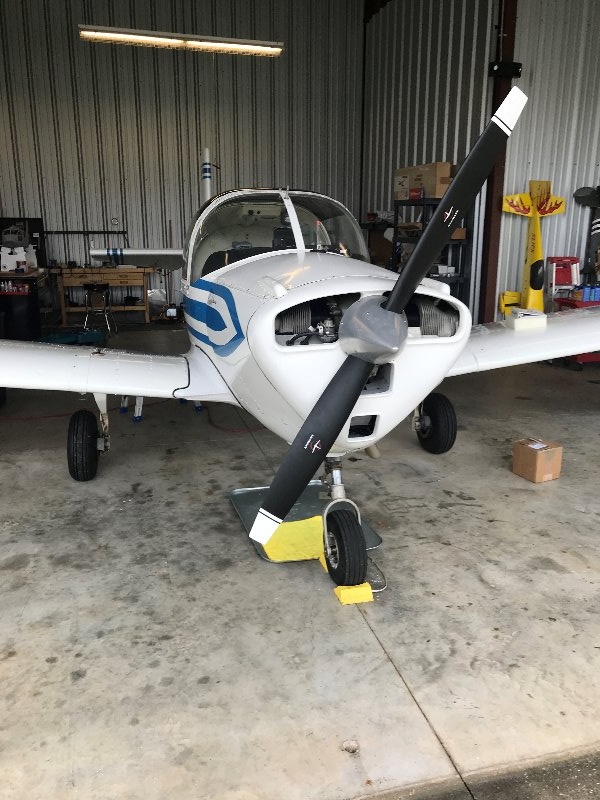 Last edit: 17 Feb 2020 20:42 by
Gordie Meade
.
Please Log in or Create an account to join the conversation.
Time to create page: 0.226 seconds