Registration for the EOC National Convention is closed.
---
More shirts for sale!
2019 National Convention T-Shirts, straight from Knoxville, Iowa. Get yours for $10 which even includes shipping! Want 3 of them? Get them for $25! The only sizes available are Small, Medium and Large. Send a check to EOC Merchandise, 212 Breakaway Rd, Cedar Park, TX 78613.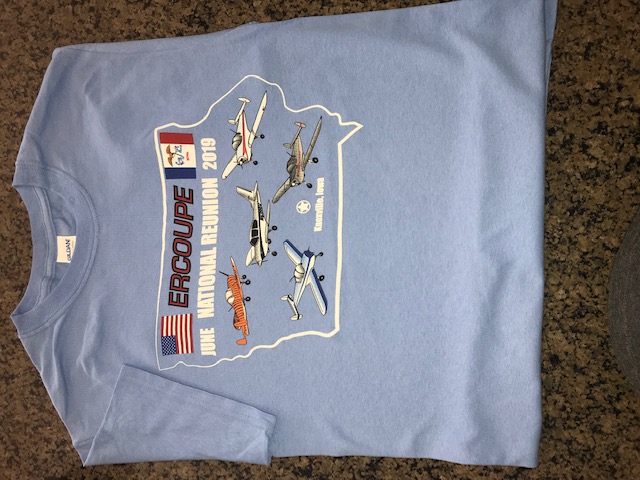 ---
I was recently asked to update the member count. Here's 11/2019 (vs 6/2017)
---
Where in the world is Waldo?
OK, not Waldo, but those Coupes? a Google map has been created showing all the FAA and Canadian registered "Coupes" we could find. Go to this link: http://tinyurl.com/gnth3y2
There are multiple layers to the map:Coupes by Model (A2's and A-2A's combined) pinned on the map by city and state and Canadian coupes. Layers are shown by model number and can be turned off individually so see just 415-C's, etc. I've taken liberties with the FAA data and if it looked like a variant of the same thing, I changed it (for example, all ERCOUPE 415-C and 415-C are now called just 415-C). And, anything with ERCOUPE in the model is now an ERCO.
You can search by just about anything that you want: street address, name, model, make, etc.
---
Thinking of buying a coupe? Check out this helpful article: Buying a Coupe - a pre-purchase inspection guide
---
NEWS FLASH:
If you can't login, please email webmaster (at) ercoupe (dot) org (replace the (at) with '@' and the (dot) with '.')
Look in the forums under "For Sale" items.
---
We fly an airplane that was the peak of pre-World War II development. It took more than a decade and a half before the features of the Ercoupe were the norm in civil aviation. Yet the industry finally followed.

The members of the Ercoupe Owners Club provide each other mutual support as we keep these classic aircraft in the air. Along the way, we've found that Coupe people are a little bit special, themselves. Please browse our site and enjoy.
Contact Information
Ercoupe Owners Club:

Gene Bunt, Executive Director - (

This email address is being protected from spambots. You need JavaScript enabled to view it.

)
803 Briar Ave
Toms River, NJ 08753
Coupe Capers Newsletter Editor
Larry Snyder (
This email address is being protected from spambots. You need JavaScript enabled to view it.
)
1444 Saint James Rd Mountain View, AR 72560
501.203.8644
Membership
Lisa Zeevi -
This email address is being protected from spambots. You need JavaScript enabled to view it.
(530)MEMBERS (530-636-2377)
Webmaster
Josef Zeevi -
This email address is being protected from spambots. You need JavaScript enabled to view it.